Recipes
Brussels Sprouts Salad with Creamy Goat Cheese Dressing
Whether your Thanksgiving celebration is large or small, we want to offer up some tasty side dishes that won't have you leaving the table completely full.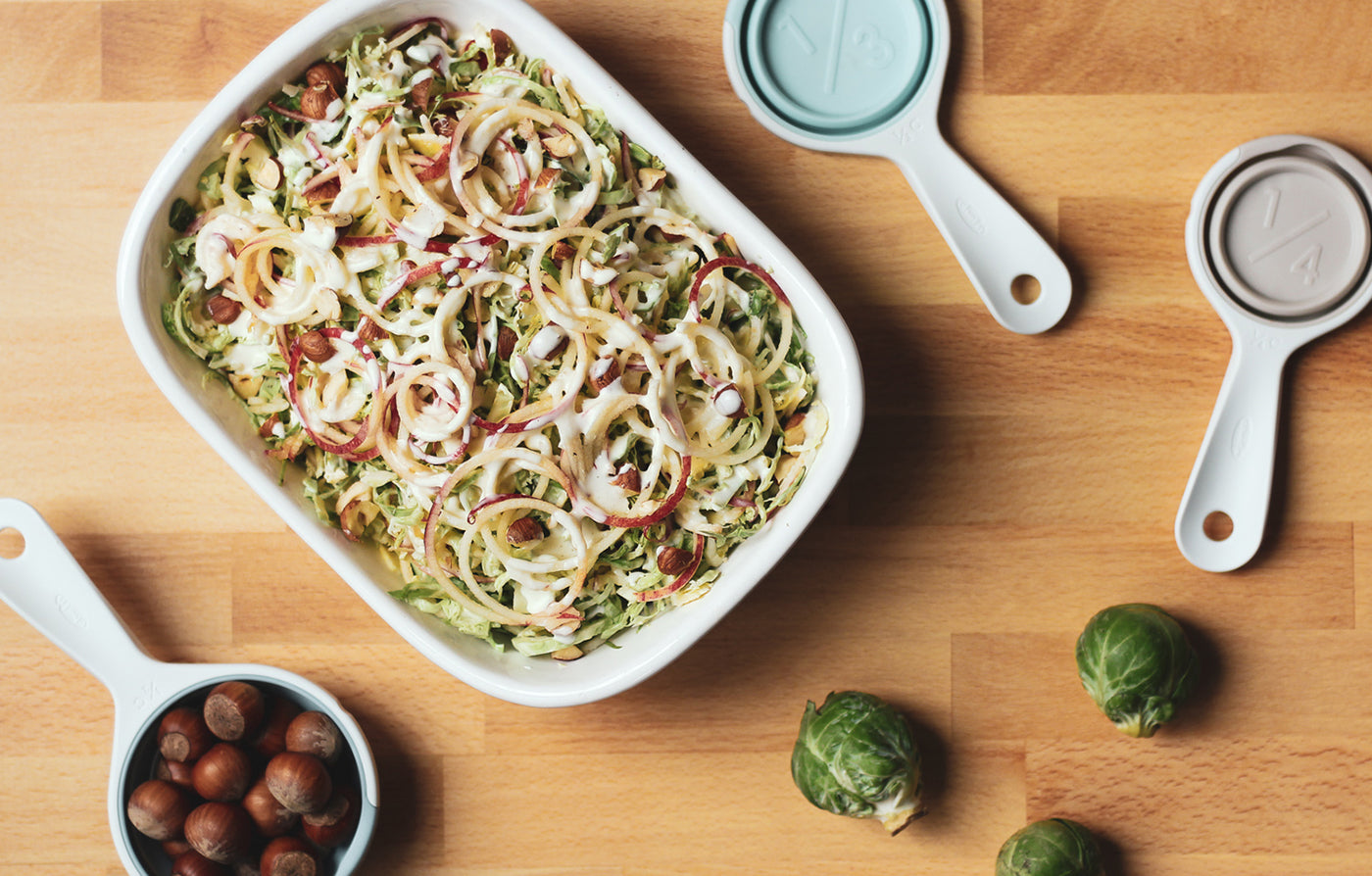 Looking for the perfect side dish for your Thanksgiving feast? Look no further! We're sharing a light salad, that will ensure a few greens come your way, but won't fill you up tooooo much. We promise you'll still have room for the potatoes and stuffing and turkey and rolls and... 
Recipe by Ashley Pilato
FOR THE SALAD
1 pound Brussels sprouts
1 Honeycrisp or Pink Lady apple
½ cup roasted hazelnuts, chopped 
FOR THE DRESSING
5 ounces spreadable goat cheese
1 tablespoon mayonnaise
1 tablespoon olive oil
2 tablespoons white wine vinegar
3-4 tablespoons water
Salt, to taste
DIRECTIONS
Thinly shred the Brussels sprouts and set aside; we recommend using any of our mandolines (Sleekslice Collapsible, Pull'n Slice Box, or 4-in-1 Glass), for stress-free slicing. 

Ribbon the apple into narrow portions and add to Brussels sprouts. (Try using our Twist Tabletop Spiralizer, perfect for turning fruits and veggies into thin strips!)

Combine all dressing ingredients, except the water, into a blender or food processor. Add water one tablespoon at a time until desired consistency. 

Add hazelnuts to Brussels sprouts and apples; toss and top with dressing. Enjoy!