Recipes
Watermelon Peanut Salad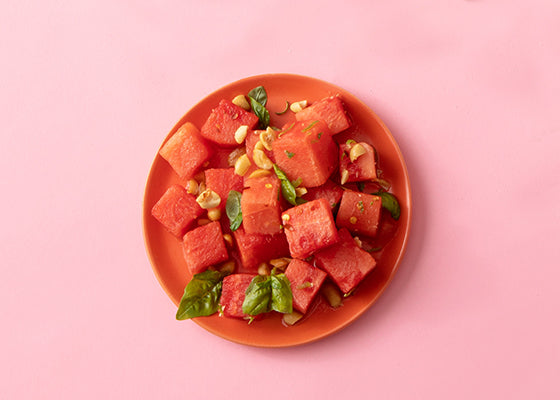 Ingredients:
2 Tbsp. fresh lime juice
1 Tbsp. fish sauce
1 1/2 tsp. sugar
2 sprigs basil, plus leaves for serving
1/2 (6-lb.) baby seedless watermelon, rind removed, flesh cut into irregular bite-size pieces (about 6 cups)
1/4 cup salted, dry-roasted peanuts
2 Tbsp. extra-virgin olive oil
Flaky sea salt
Directions:
Stir lime juice, fish sauce, sugar, and 1 Tbsp. water in a large bowl until sugar is dissolved. Lightly crush 2 basil sprigs by scrunching up in your hand and add to dressing along with watermelon; toss gently until coated.
Transfer watermelon salad to a platter, leaving basil sprigs behind. Top with peanuts and basil leaves, drizzle with oil, and season with salt.
Serve and enjoy!