Recipes
Avocado Toast with Herbed Breakfast Potatoes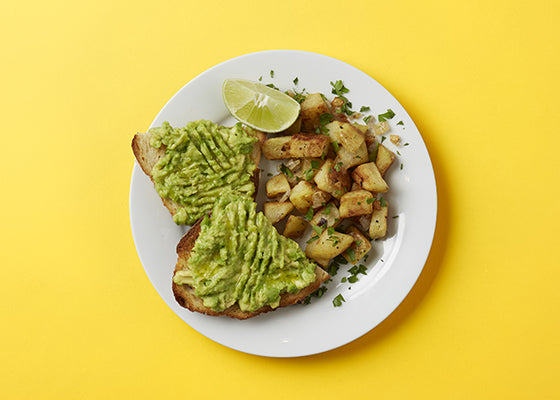 Ingredients:
Avocado Toast:
Baguette
Avocado
Juice of 1/2 lime
1/2 tsp. olive oil
Salt
Pepper
Herbed Breakfast Potatoes:
4 pounds yokun gold potatoes, unpeeled and cubed
1 cup chopped shallots
1/2 cup olive oil
1 tablespoon coarse kosher salt
1 teaspoon ground black pepper
6 tablespoons chopped fresh parsley
4 teaspoons chopped fresh thyme
2 teaspoons paprika
Directions:
Avocado Toast:
Slice the baguette in half lengthwise and toast
Slice avocado and arrange on the toast
Drizzle juice of 1/2 a lime and 1/2 tsp. olive oil over avocado
Add dash of salt and pepper to taste
Additionally, top with poached egg, bacon or tomatoes and basil if you wish
Serve and enjoy!
Herbed Potatoes:
Boil potatoes in salted water for 6 minutes and drain
Toss potatoes with shallots, oil, salt and pepper in large bowl to coat
Preheat oven to 400F degrees
Oil two baking sheets, distribute potatoes evenly
Roast for 35 minutes, adding 2 tablespoons of parsley, and 2 teaspoons thyme, 2 teaspoons of paprika over potatoes
Turn potatoes and roast an additional 20 minutes or until brown and tender
Remove from over, sprinkle additional 2 tablespoons of parsley and transfer to serving dish
Enjoy!