Recipes
Mini Ice Cream Sandwiches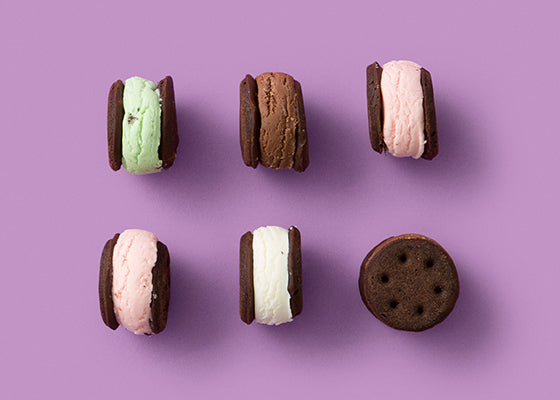 Ingredients:
1/4 cup butter at room temperature
1/3 cup sugar
3/4 tsp salt
1/4 tsp baking powder
1 tsp vanilla extract
2 egg yolks
1/2 cup all-purpose flour
1/2 cup cocoa powder
1/2 cup hot water
Cooking spray
Directions:
Preheat oven to 375⁰
In a standing mixer, (a hand mixer works great, too) combine butter, white and brown sugars, salt, baking powder, baking soda, and vanilla. Mix until combined.
With mixer on low, add egg yolks, one at a time. Once they've mixed in, scrape down the bowl and turn the mixer back on low, and slowly add flour and cocoa powder.
Once incorporated, carefully add hot water all at once and mix batter until smooth. You will need to scrape the bowl down and continue mixing for about 5 minutes to ensure a smooth texture. Consistency should be similar to cake batter, no lumps is best.
Take both ice cream brownie molds and place them on a sheet pan, lightly spray with cooking spray to ensure no sticking.
Portion one scant teaspoon of batter into the center of each mold. Avoid overfilling. Spread slightly with spade.
Tap molds to remove excess air bubbles and wipe sides clean to prevent burning.
Bake for 10 minutes.
After removing molds from the oven, you may gently push any overflowing batter back into each mold with spade or butter knife to ensure that ice cream mold fits nicely onto cookie form.
Place in refrigerator for 20 minutes or until completely cooled.
Once brownies are cooled, place ice cream mold firmly into one of the brownie molds. With the spade, fill the ice cream mold with your favorite flavor ice cream, making sure to smooth completely for your brownie tops!
Next, carefully place the remaining brownie mold on top of the ice cream and snap firmly into place. Now place the entire mold into the freezer for at least 1 hour.
To remove sandwiches from the mold, carefully remove the top brownie mold, leaving the brownies in place.
Next, flip the sandwich maker over a sheet pan and repeat with the bottom mold. Find the inscription on the ice cream mold that says "push out sandwiches here" and using both thumbs, gently push at the ends of the sandwich onto the sheet pan. Do not press directly in the middle of the sandwich, this may result in it breaking. Use even pressure to ensure the best results!
Now wrap each sandwich in wax paper and freeze in a airtight container for best quality, or eat immediately!
Sandwich cookie batter may be saved up to 1 week in the refrigerator. Add 1 tablespoon hot water for each 1 cup of batter to return to proper consistency.
To make more than 1 batch, rinse silicone molds with hot water and reuse.
10 mini sandwiches require about 1 quart of ice cream.