Recipes
Bacon and Egg Breakfast Sandwich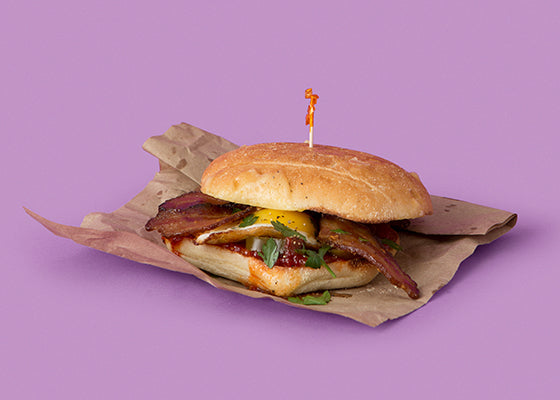 Bacon and Egg Breakfast Sandwich
Ingredients:
Focaccia bread
2 tablespoons tomato jam
4 fresh pickled jalapeños, diced
1/3 cup shaved parmesan
3 slices Black Forest or applewood-smoked bacon
1 egg
Sea salt
Flat-leaf parsley
Directions:
Preheat oven to 400°F. Cut focaccia in half and spread the tomato jam and diced jalapenos on half. Cover the opposite half with 1/3 cup shaved parmesan and place both on a baking sheet face up.
In a small skillet, cook the bacon over medium-high heat (we prefer it crispy) and place the bacon on top of the cheese and bake the open sandwich until the cheese is melted and the roll is slightly toasted on the edges.
While the sandwich is toasting, cook the egg sunny-side up in the bacon fat. Remove bread from oven and place the egg on top of the tomato jam and jalapeños. Garnish with a pinch of sea salt and flat-leaf parsley.
Recipes modified from Food52 recipe for the Egg Shop B.E.C.