Recipes
Kimchi Egg Scramble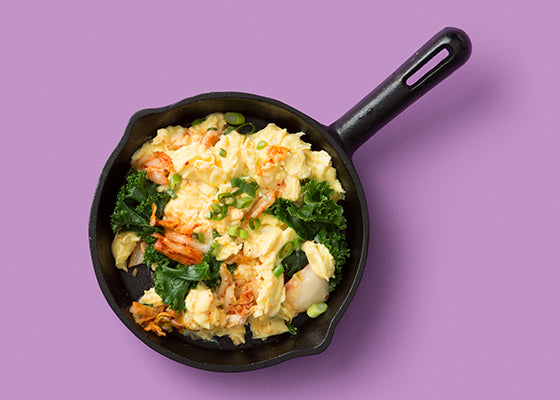 Ingredients:
Extra virgin olive oil
Eggs, lightly beaten
Kale leaves, thick stems removed, torn into thumb-sized pieces
Kimchi
Mung bean sprouts
Green onion
Salt and pepper to taste
Directions:
Heat oil in pan over medium heat
In a medium bowl, whisk eggs and salt and pepper. Add the eggs to the pan and reduce heat to medium-low stirring constantly as the eggs cook.
When nearly cooked through, add the kale and continuing scrambling the eggs and kale around the pan.
When the kale turns a bright green and is slightly wilted, add the kimchi and sprouts and scramble for an addition two minutes.
Serve with sliced green onion and salt and pepper to toast.