Recipes
Peach Salad with Mozzarella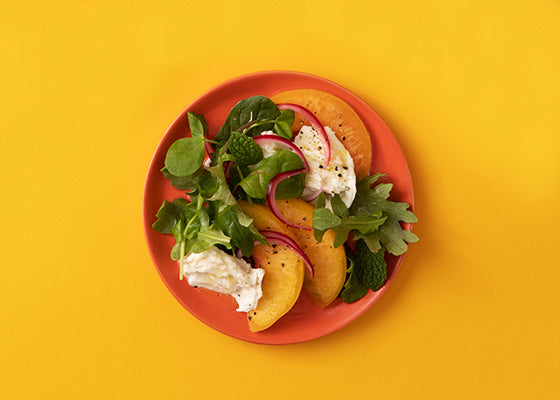 Ingredients:
Peaches, thinly sliced
¼ small red onion, thinly sliced 
¼ cup white wine vinegar
1 teaspoon sugar
Kosher salt
Freshly ground pepper
4 cups mixed bitter greens (such as arugula and mizuna)
1 cup fresh mint leaves
2 tablespoons olive oil plus more for drizzling
8 ounces fresh mozzarella or burrata, cut or torn into 1" pieces
Directions:
Toss peaches, onion, vinegar, and sugar in a large bowl; season with salt and pepper. Let sit 10 minutes.
Pour off pickling liquid from peaches and onion, reserving liquid.
In a separate bowl mix 2 tablespoons oil and 2-3 tablespoons reserved liquid.
Add greens and mint to peaches; toss to combine.
Place mozzarella on plates, top with salad, and drizzle with oil.
Season with salt and pepper.