Recipes
Farrotto Stuffed Squash
Some say farro risotto, we say farrotto!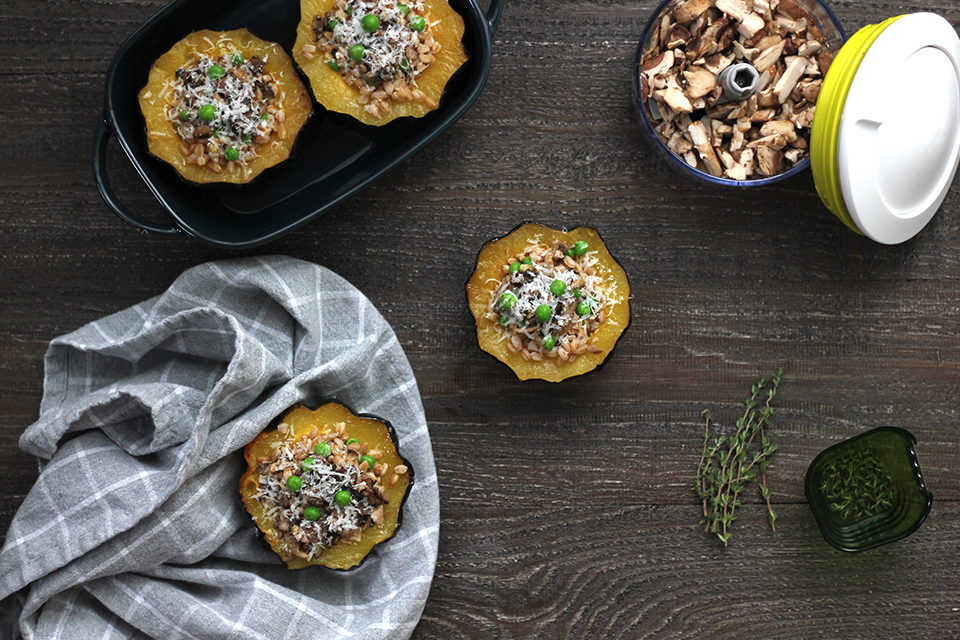 INGREDIENTS
2 medium acorn squash
1 tablespoon olive oil
1/2 cup farro, rinsed and dried
1 tablespoon butter
½ cup white onion, chopped
8 ounces baby bella mushrooms, chopped
1 clove garlic, minced
1 ¼ cup vegetable stock
⅓ cup grated parmesan cheese
1 teaspoon lemon juice
1/2 cup frozen peas, thawed
2 teaspoons fresh thyme
Salt and pepper, to taste
DIRECTIONS
Preheat oven to 400° 

Cut acorn squash into halves and scoop out the seeds. Drizzle olive oil over the acorn halves and place face down onto a parchment lined baking sheet. Bake for 30 minutes until the flesh is easily pierced with a fork, but not mushy.

While the squash roasts, heat a sauté pan over medium-high heat.  Add the dry farro and let it toast for 3-4 minutes, stirring occasionally, until the farro is fragrant.  Remove from heat.

 In a small pot, h

eat the butter over medium heat until melted and lightly bubbling. Add the onion and a dash of salt and sauté over medium-low heat for 5 to 7 minutes, stirring often, until the onion is soft and translucent. 

Add the mushrooms and cook for 2-3 minutes.  Add the garlic and cook another 30 seconds.

Add the stock to the pot and bring to a boil. Add the farro,  cover, lower the heat, and cook for  45 to 50 minutes until the farro is tender.

Mix in the

parmesan cheese and lemon juice. Add the peas. Season to taste with salt and freshly ground pepper. 

Stuff the acorn squash halves with farro filling and bake for another 10-15 minutes. Garnish with fresh thyme.