Recipes
Open-Faced Pickled Asparagus Sandwich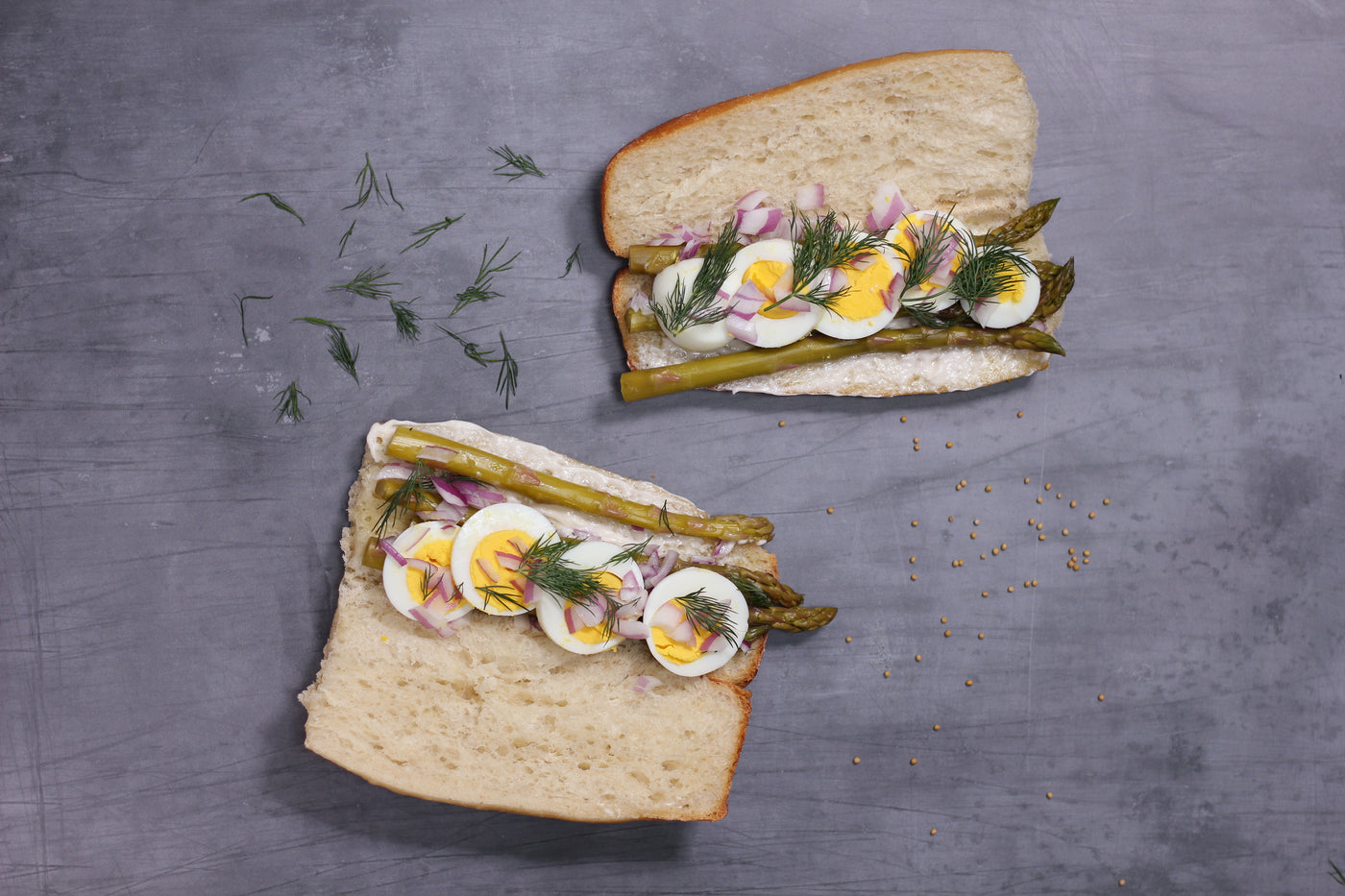 Spring has sprung! We want to celebrate with spring greens like asparagus - but with a twist. Try our Open-Faced Pickled Asparagus Sandwich (using an assortment of our pickling tools, of course). This is perfect for a bite on a picnic, while enjoying the beautiful spring weather. And, be sure to save some of the pickled asparagus for a later use, perhaps as an edible garnish in your Bloody Mary? 
Recipe by Ashley Pilato
INGREDIENTS
1 bunch asparagus spears, washed and trimmed
1 cup water
1 cup white vinegar
1 tablespoon salt
1 tablespoon sugar
2 garlic cloves, peeled and smashed
1 teaspoon mustard seeds
1 mini baguette
1 tablespoon mayonnaise or aioli
1 hard boiled egg
1 tablespoon chopped red onion
Fresh dill sprigs
DIRECTIONS 
First, make the pickled asparagus, beginning with blanching. Prepare a large bowl of cold water with ice, then bring a pot of water to boil, and boil the asparagus for 30 seconds. Drop the asparagus into the bowl of cold water immediately after to "shock" them, and stop them from cooking.

Combine the water, white vinegar, salt, and sugar in a pot and bring to a boil. Stir to dissolve salt and sugar and remove from heat. Let cool. 

Place garlic cloves and mustard seeds into pickling jar, fill with asparagus, and pour the cooled brine over the ingredients. 

Cover with lid and let sit for at least 2-3 days before eating. (Pickled asparagus can store for up to 3 months; you'll know they're past their prime when the tops get darker, and they lose their crunch.)
When ready, spread the aioli on top of the baguette, and layer the asparagus, egg, and red onion. Sprinkle fresh dill on top and enjoy!