Return
September 29, 2020
Tips & Tricks
Fall Into Pumpkin-Squash Season
So many gourds, so little time! Read on for the best ways to shop, store, and savor squash.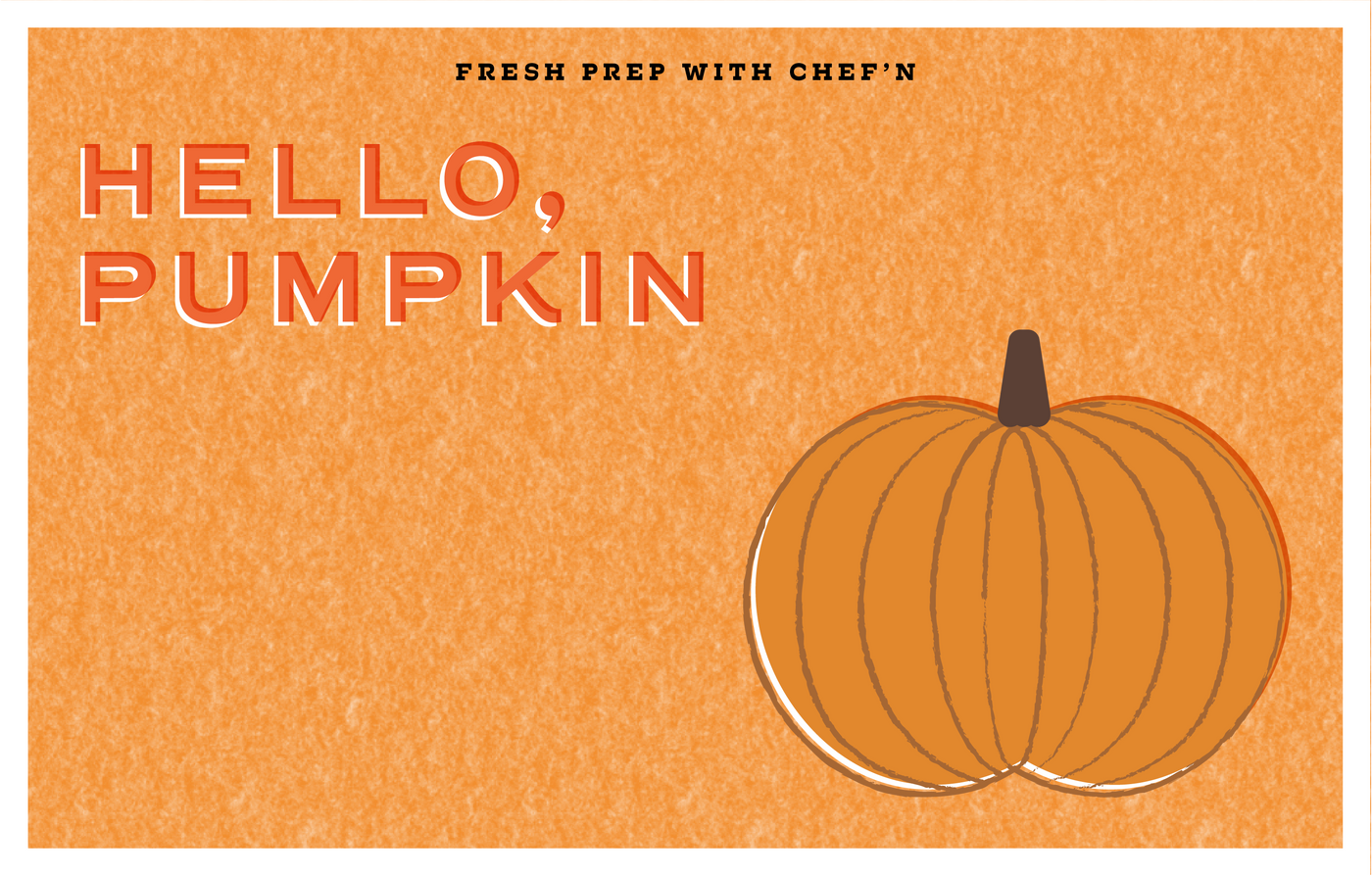 Butternut, acorn, spaghetti, delicata—so many types of squash, so little time! What's more, each specific variety offers different looks, tastes, and feels, each important to know when shopping. Read on for tips and tricks—and treats!—about your favorite gourds. 
SHOPPING FOR SQUASH
There's no such thing as "one size fits all" when it comes to squash; each varietal is different from the next in terms of shape, color, and taste. While you may not be able to easily sample squash when at the market or grocery store, looking thoroughly and testing the feel of the gourd should help you out.  
Butternut Squash

are best bought with a creamy or beige skin color; they should sound hollow when you knock on them. 
Kabocha Squash

are smaller and green; look for a firm, deep green rind, and make sure they have a bit of heft to them when you pick one up. 
Sugar Pumpkins

are small and dense, weighing 4 - 5 pounds. Look for your classic orange color on these, and you won't be disappointed. 
Acorn Squash

disproves the theory that shiny is better; a shiny rind on an acorn squash means it was picked too early and the flavor will fall flat. Look for a dull, dry rind with no cracks or soft spots. 
Buttercup Squash

have a pseudo-cap that can help you determine if it's ready for cooking; if firm, the gourd is ready for your kitchen! If the cap is softer, it's likely too old. Also, be sure to look for a dark green rind with even coloring. 
Spaghetti Squash

are best when firm to the touch. You also want to be sure they're free of soft spots or cracks, and have a dry stem. 
Delicata Squash

have yellow and green stripes and are best picked when they feel firm, especially near the ends of the stem. Unblemished skin is best.

 
STORING SQUASH
Depending on the squash, you could store your favorite gourd for several months before it goes bad! Delicata and spaghetti squash have thinner skin and therefore are more susceptible to bruising; these types of squash keep for 2 - 4 weeks. Sugar pumpkins and kabocha squash are a bit more durable with thicker skin, and will last for close to a month. The right acorn squash will keep for 1 - 2 months, while butternut squash is the clear winner—stored in a cool, dark environment, these gourds will last for six months!  
SAVORING SQUASH
There are countless ways to savor the many varieties of squash: 
Prep Ideas

Prepping squash really depends on how you plan on consuming it. And, with the

ScoopSaw Squash Tool

, you'll be able to do just about anything! You can slice it in half, puncture a few holes, and roast it up. You can chop the whole thing into big chunks and toss into a big vat of water for some stock. You can remove the meat of the squash, roast the outside, then stuff a mixture of yummy flavors in the middle. The world is your oyster—or squash!

Try This

Use your butternut squash as a base for a velvety, rich risotto.

With flavor similar to that of a sweet potato or chestnut, kabocha squash is perfect for a curried soup or even a congee. 

Sugar pumpkins make for a lovely table decoration; why not pour pumpkin soup right back into the shell of the pumpkin for a decorative vessel? You could also simmer with roasted tomatoes and a smoky chipotle salsa for a Mexican-inspired dish. 

For a sweet treat, trying baking your acorn squash with some brown sugar and cinnamon sprinkled on top. 

Buttercup squash has a similar flavor to sweet potato; try replacing your favorite sweet potato recipes with this gourd, maybe a buttercup squash, tahini, and kale salad.

Everyone knows that spaghetti squash is a great replacement for spaghetti noodles, but there are countless ways to use this funky gourd: Spaghetti squash and chickpea fritters? Chili stuffed spaghetti squash bowls? Squash noodle soup? Try 'em all!

The shape of delicata squash handily enables the fruit to serve as a vessel; slice the squash into inch-sized rounds, place an egg in the middle, and bake! You'll have delicious (and easy) baked eggs, ready to be topped with arugula, cheese, tomato jam, whatever your heart desires—and a show-stopping brunch. 

Save Your Scraps

Roasting pumpkin seeds is a time-honored tradition for many, but don't leave other squash seeds out! You can roast seeds of any type of winter squash—add cinnamon and nutmeg for a sweet snack, or opt for savory flavors with smoked paprika and cumin. Or, keep them super simple and add just a bit of oil and salt.

While all squash skin is edible, you might not want to sample that of the thicker skinned gourds. Instead, save it for delicious, homemade squash stock. In fact, you can add any part of the squash to stock, seeds, and all.