Tips & Tricks
The Chef'n Team's Favorite Tools of Quarantine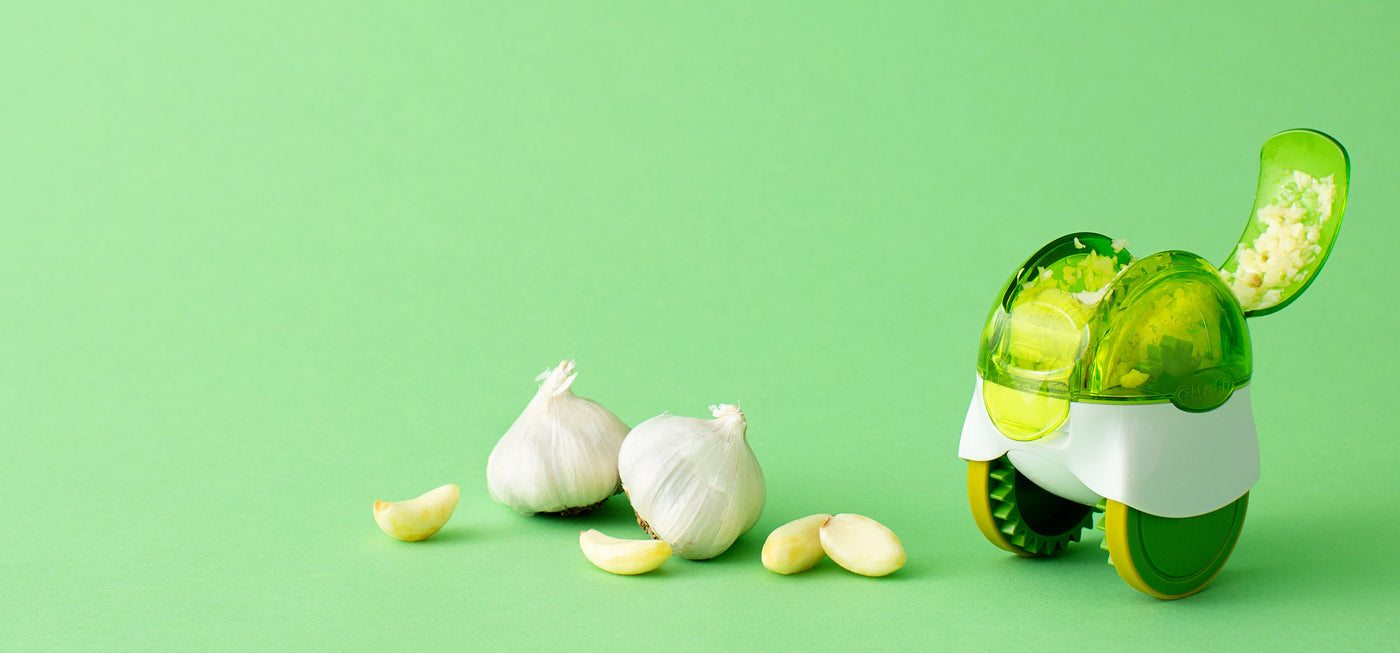 Well folks, it's officially been a year since the staff at Chef'n began the WFH lifestyle, and while some aspects have been tough - say it with us, "LACK OF HUMAN INTERACTION" - others have worked in our favor. Getting laundry done during the workday? Avoiding the 5pm grocery store rush? And of course, working in sweatpants?? All good things! Another positive has been rediscovering our favorite Chef'n tools. Find out which gadgets our office staff can't get enough of, below. 
GARLICZOOM XL GARLIC CHOPPER
"I LOVE the Garlic Zoom! I use it with nearly every meal. My hands are left clean—not sticky—and they don't smell of garlic for the entire night. It's easy to use, easy to clean, and fun!" ~ Lauren A.
AJAR JAR OPENER
"Like a lot of other quarantiners, I stepped up my gardening game over the summer, and the surplus of fresh vegetables lead to a LOT of canning. Our tomatoes, pickles, jalapenos, and more, would still be sitting unopened in my cellar if it wasn't for my trusty Ajar Jar Opener! It works on all sizes of jars and freed my delectable fruits and veggies from their vacuum-sealed chambers." ~ Rick S.
FRESHFORCE CITRUS JUICER
"Lemons into lemonade was 2019; 2020 was all about turning limes into margaritas in my house! The FreshForce Citrus Juicer helped us squeeze every bit of tart deliciousness out of our limes, while we experimented with fun ways to complement tequila and mezcal. It was a great way for us to end the day or kick off the weekend!" ~ BJ S.
SWITCHIT ALL-PURPOSE SPATULA
"I love the Switchit All-Purpose Spatula! It's been my best friend during my quarantine baking adventures. Super easy to clean and very versatile, it's truly the only silicone spatula I use for baking!" ~ Sam W.
NUT MILK MAKER
"The Nut Milk Maker is so easy to use, and the milk tastes so much better than store bought!!"  ~ Kristine M.
STALKCHOP
"An item you didn't know you needed! We use the StalkChop all the time for separating broccoli and cauliflower." ~ Corbin B. 
FRESHFORCE GARLIC PRESS
"I love the FreshForce Garlic Press. It works well AND clean up is the biggest benefit- the place where the garlic comes out, can move out from the handle for easy cleaning." ~ Emily B.
Quarantine has been a doozy, and it's not over yet; there's still time to pick up a tool that will help you in the kitchen!